Barcotec stands for innovative hardware paired with professional device management and a service all-round package.
About us
Founded in 1989 in the heart of Europe (Salzburg), Barcotec provides regional and international companies and institutions with innovative hardware, a device management cloud and a complete service package for optimising mobile work processes.
Barcotec helps agile companies to gain a competitive advantage by using technological tools for the design of digital work processes in production, logistics, trade, field service and healthcare.
As your "Digital Enabling Partner", you benefit from our extensive know-how in the areas of
Identification technology (barcode, RF-ID, voice),
Professional, industrial-grade hardware from international market leaders,
Wearables (smart glasses, wearable scanners),
Device management (Unified Endpoint Management, Mobile Device Management),
Communication systems (Bluetooth, narrowband radio, WLAN and WAN) and
Software integration with your higher-level ERP and merchandise management systems
As the operator of a certified private cloud solution within Europe for professional mobile device management, you have a regional partner for your solution and the highest possible security for the introduction, integration and operation of your project.
Our international trend scouting ensures you a knowledge advantage at the highest level and provides you with the latest international products.
Barcotec directly represents international market leaders such as Denso, Datalogic, RealWear, Zebra, Advantech, Citizen and Vuzix. The selection of our suppliers is based on technology and sustainability-oriented aspects.
The service centres we manage in Austria (manufacturer-certified) carry out work with minimum lead times and original spare parts, thus ensuring the smooth operation of your solution throughout its entire service life.
Vision & Mission
Barcotec is your reliable and professional partner for the most innovative solutions for the digitalisation of your work processes.
We put the know-how of our team at the service of your vision and actively support you in its implementation. Your satisfaction as a customer is our primary goal and the motivation and motive for our actions.
The skills, knowledge and enthusiasm of our team are decisive for the success of our company.
Our maxim is: "No customer, employee or partner should ever regret having worked with Barcotec".
So far, we supply customers in the following countries:
Austria, United Arab Emirates, Australia, Belarus, Bulgaria, Bosnia and Herzegovina, Brazil, Switzerland, China, Czech Republic, Germany, Denmark, Ecuador, Spain, Estonia, Finland, France, Greece, Greenland, Croatia, Hungary, India, Iran, Ireland, Israel, Italy, Kenya, Korea, Libya, Liechtenstein, Lithuania, Luxembourg, Latvia, Moldova, Mexico, Malaysia, Netherlands, Poland, Portugal, Romania, Saudi Arabia, Singapore, Slovenia, Serbia, Slovakia, Sweden, Thailand, Turkey, United Kingdom, Ukraine, United States of America, South Africa.
More to follow ...
Code of Conduct
Since 1989, Barcotec has established itself as a market leader in the Austrian market - not only with its excellent products, but also with its dedicated and motivated team. We often hear from customers that they feel that "Barcotec blood" flows in the veins of our employees. This is outstanding praise for our team and our efforts.
Our guiding principle "No customer, no employee and no partner should ever regret having worked with Barcotec" was formulated by CEO Alexander Rainsberger in 2003 and shapes our daily actions.
Management Board
"A successful solution must always bridge the gap between challenge and appropriate technology. With us, you have a partner who knows the basics of IT and thus the pragmatic way." Technology mastermind of Barcotec, employed at Barcotec since 1996, since 2003 as managing partner, implementation of numerous innovations, co-inventor of the data glasses. 
Alexander Rainsberger / Managing Director / General Manager / CEO
"We see it as our duty to familiarise you with the latest technologies and trends in a timely manner so that you remain top informed. This way you have the right partner and can make informed decisions as well as implement projects in an agile yet reliable manner." Since 1989 in the Auto-ID industry, since 2003 with Barcotec in the management, numerous projects in retail, industry, new identification technologies implemented.
Manuela Hagenauer, MBA / Director Sales & Marketing / CSO
More than 30 years of experience
The history of Barcotec is characterised by a multitude of innovations that have resulted either from the requirements of our customers or from developments of related manufacturers (for example Denso as the inventor of the QR code).
The high level of technical expertise coupled with innovative intrepidity and reliability in implementation have made us a favoured partner of our customers for decades. 
Here is an overview of the biggest milestones:
2022
Neues Büro in Wien
Über mehr Platz, die urbane Lage und gute Verkehrsanbindung freut sich nicht nur unser bestehendes Team, der neue Standort ist auch Startpunkt für einen weiteren Ausbau unserer Dienstleistungen.
2021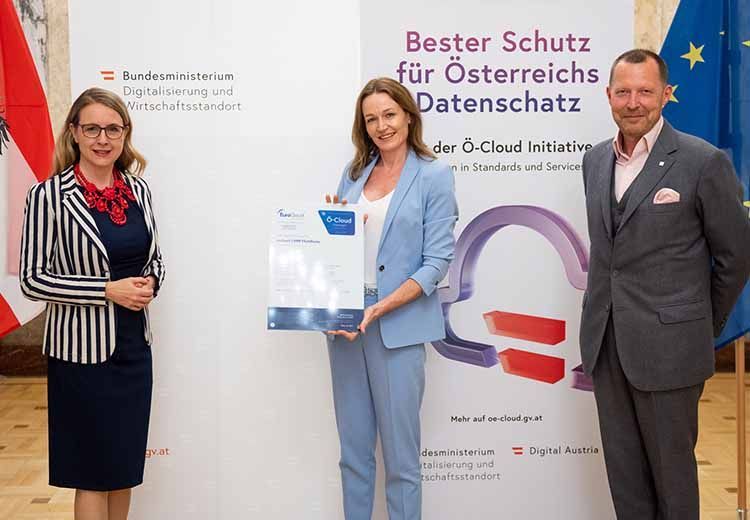 The MDM Cloud receives an award from the Ministry of Digitalisation
The "Ö-Cloud" seal of approval certifies our "m-Cloud" as a secure unified endpoint management system with 70 additional security criteria.
2020
Smart Fridge wins multiple awards
Our intelligent refrigerator is awarded, among others, the "Top Supplier Retail Award" of the EHI Retail Institute in the category "Best AI & Robotics Application".
2017
HMT-1 data glasses conquer Europe
Realwear appoints Barcotec as their very first distributor for the Central European region and awards the title "Master Distributor", allowing the Head Mounted Tablet to start its triumphal march through our region.
2015
Pager solution "Groundcontrol" is rolled out
The innovative pager solution is being rolled out for the first time. It makes it easier for hauliers to reach cross docking stations for pick-ups.
2014
Photo function for easyMITS
The popular connectivity software "easyMITS" is extended by the photo function. It is now possible to attach a picture document to orders.
2013
"Combi Cam" is created
Combi Cam" is created for quality assurance of goods in shipping. Mobile terminals trigger cameras that take pictures of the finished collis from all sides before the truck is loaded.
2008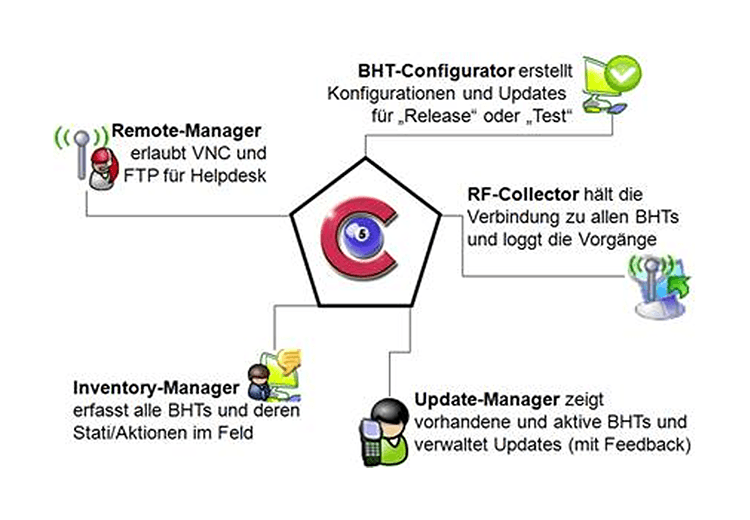 Mobile Device Verwaltungssoftware "C5" entsteht
Mobile device management software "C5" is created
2006
Birth of "easyMITS" Mobile Interface to Servers
The connection of mobile clients to ERP systems is in its infancy at this point. We are developing generic software that can directly access existing data and display it on the mobile device's screen.
2002
Comprehensive 2D code project is implemented
In Siegendorf, Burgenland, we realised one of the largest 2D projects of the year. Stationary and mobile data matrix recording was implemented on the basis of directly used codes (direct part marking).
1998
Radio data transmission is implemented in the warehouse for the first time
At a time when the term "Wifi" had not yet been born, we realised the first project for connecting mobile clients via radio data transmission in the central warehouse of a large retailer. The new "frequency hopping" technology enabled friction-free data transmission.
1989
Founding of Barcotec
In March 1989, DI Olaf Kerp founded the first specialised provider of barcode automation and mobile data capture - BARCOTEC - in Anif near Salzburg.