Porsche really steps on the gas with Barcotec
Porsche Parts Distribution Centre
Location
Salzburg, Salzburg
Technologies used
Barcodes
Devices used
Vehicle terminals and mobile label printers
Porsche really steps on the gas with Barcotec
The Porsche parts distribution centre in Salzburg, with an area of almost 77,000 m², together with Porsche PCB Hungary, forms the central depot for south-eastern Europe for the Volkswagen Group brands. The assortment ranges from original parts and accessories to paints and tools for dealers and importers.
The optimal processing sequence of the floor conveyors prevents empty and search trips.
The aim of the new project at Porsche was to adapt the warehouse logistics to the new market conditions in evolutionary steps on the basis of a continuous improvement process (CIP). To this end, several scientific approaches were considered in advance and were confronted with two possible solutions.
On the one hand, the investment in an automated large-scale plant, which would have caused many times the costs, required expensive support staff and offered few additional benefits. On the other hand, the investment in manual processes, which could be implemented faster, cheaper and with more sustainable flexibility. Nevertheless, they did not entail any loss of future security and achieved a payback period of less than one year.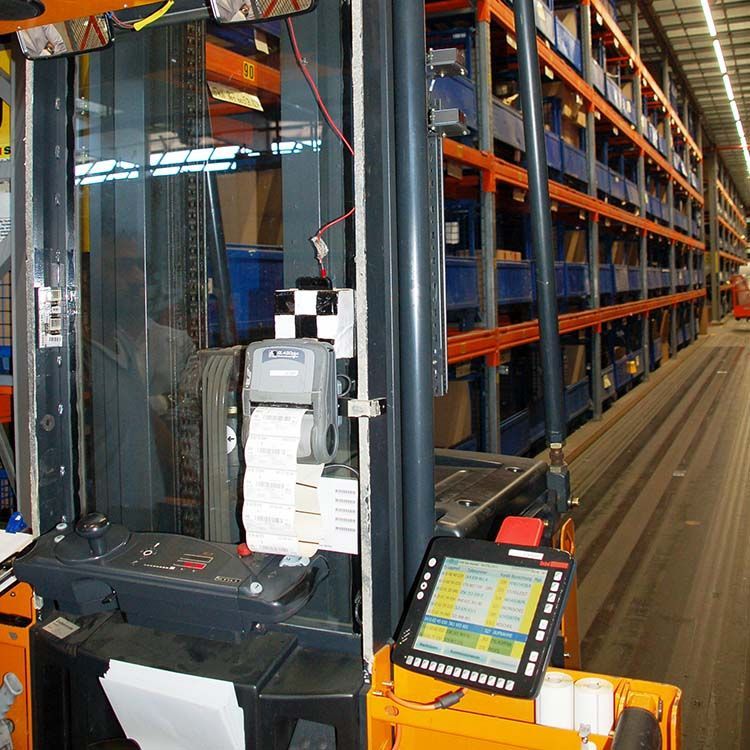 By investing in the optimisation of manual processes, the overall duration of the picking process could be significantly reduced right away.  This was achieved with a system from Barcotec.
The Barcotec devices scored first and foremost with a high degree of robustness. Good readability in different lighting conditions and still easy operability were further criteria that Barcotec was able to fulfil. It was also possible to mount the industrial terminals on a wide variety of forklift types.
The employees were involved in the software design and acquisition process from the very beginning, which meant that training on the devices and operation was not necessary.
Barcotec's high level of commitment and experience were important decision criteria for us. We were also convinced by Barcotec's proximity to the customer and the resulting rapid response time, especially in the start-up phase and for ongoing operations.
Porsche employee
Manuela Hagenauer, MBA, Sales Director at BARCOTEC adds: "We are very pleased to be able to count a renowned showcase company like Porsche among our customers. In the Porsche parts distribution centre in particular, a wide range of intralogistics processes are part of everyday life, which means we were able to demonstrate our performance particularly well in our typical field of activity."