SPAR Austria extends use of Barcotec BHT 800 logistics scanner to weinwelt.at
SPAR Austria
Technologies used
Barcodes
Devices used
Mobile Computers
SPAR Austria will increasingly rely on BHT-800 mobile data capture devices for intralogistics. Weinwelt.at, INTERSPAR's online shop for wine and spirits, will now rely on the robust and reliable terminals from Austrian company Barcotec for goods bookings in the warehouse, as will all of SPAR's central warehouses in Austria and surrounding countries.
In the weinwelt.at warehouse, both GVE (large packaging units) and EVE (individual packaging units) are picked, 99% of which are marked with barcodes. The only exceptions are very expensive and exotic wines. Deliveries from weinwelt.at are either made directly to the customer's home or to INTERSPAR hypermarkets where customers can pick up their orders.
From A to B
The relocation of the weinwelt.at warehouse from Vösendorf near Vienna to the SPAR AG central warehouse in Wels meant that all logistics processes were revised at the same time. Alexander Grill, Head of Central Warehouse Logistics at SPAR Austria, says: "Within one weekend, we moved all the stocks of weinwelt.at and from Monday they were available again for picking in the central warehouse in Wels." Of course, it was first necessary to create the appropriate space in the central warehouse, set up the infrastructure for this and integrate weinwelt.at into the warehouse management system.
"We have had so much good experience with the mobile terminals from Barcotec in our central warehouses throughout Europe that it was obvious to convert weinwelt.at to them as well," Grill continues.
The low weight of the device combined with its high robustness also played a decisive role.  The brilliant colour display makes it easy to read the display in the often dark storage environment and thus ensures quick access.
But what use is the best device if the partner has no idea of the running operation? SPAR also relies on Barcotec for weinwelt.at because, in addition to supplying the hardware, they also provide service for the entire service life, guarantee delivery availability for many years and ensure that the settings are quickly adapted in the event of system changes from the head office.
The support and personal cooperation with the Barcotec team goes far beyond a classic supplier/customer relationship.
Alexander Grill, Head of Central Warehouse Logistics at SPAR Austria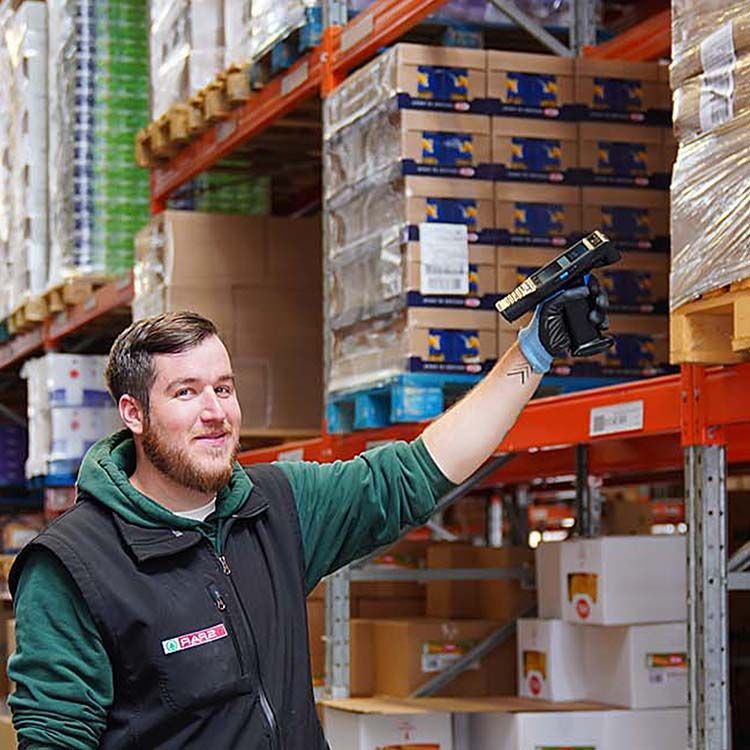 "Barcotec has understood the importance of mobile terminals for the availability of goods in our company and acts accordingly. Fast unbureaucratic processes, delivery reliability and a tailor-made concept ensure our satisfaction." 
Grill concludes: "My job is to ensure smooth logistics within SPAR in the best possible way and to put the right tools in the hands of my colleagues. With Barcotec we have a strong partner, not only for the delivery of the right hardware, but also for the ongoing operation of the equipment. For me, this means little effort on a day-to-day basis, because Barcotec makes sure that everything runs."